11:45 GMT, 29 October, 2011
Stamford Bridge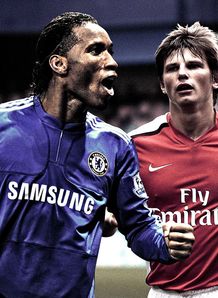 Overview
Arsenal's Talisman, Van Persie, scoring 4 goals in his last 2 games, brought Arsenal to 7th position in the English Premier League. However, they are still 12 points from leader Man City and 6 points away from opponent Chelsea. A win against Chelsea would narrow their gap to 3 points and suddenly Arsenal look to be challenging for top 4 all over again. Arsenal currently have won 4 successive games including a 0-1 win against Marseille in the Champions League and a 2-1 victory against Bolton in Carling Cup.
On Chelsea's side, Chelsea came back from a shocking 0-1 defeat to Queens Park Rangers, with Bosingwa and Drogba getting sent off in the 1st half. Chelsea will also be looking to close the gap against league leader Man City, trailing them by 6 points.
Arsenal have only won once in Stamford Bridge in their last 10 outings. Chelsea have a perfect home record winning 4 out of 4 home games, scoring 12 and conceding 4. On the other hand, Arsenal have a terrible away form notching just 1 point in 4 outings. They manage to score 6 goals and conceded 14 goals(worst away goals conceded with Swansea), but it includes the 8 goals at Old Trafford.
Verdict
Even though Chelsea lost their last game against QPR and Arsenal have been on a winning form. I don't see Arsenal getting anything out from this game. They do not have the depth and Chelsea are simply too strong for them. With Chelsea's perfect Home form and Arsenal's winning away form, I reckon it will be a Chelsea win. Van Persie need to perform some miracle if they were to at least get a point.
Prediction
Chelsea 2 - 1 Arsenal